BullGuard Internet Security is an easy-to-use, powerful security suite developed by BullGuard that is designed for protection against latest cyber criminals including virus, spyware, cookies, malicious threats, spam, and malicious scripts to prevent their execution in real-time. With BullGuard Internet Security, user can backup or store all valuable documents, photos and music files online with it 5 GB online backup storage features. Besides, the latest version BullGuard Internet Security 10 has added new features such as Behavioural Detection, Safe Browsing, Inspector, and owner password protects function.


Key Features of BullGuard Internet Security:
Protects against zero day exploits
Anti-spam technology to detect, block email and image spam
Personal firewall defends against attacks from the Internet
Behavioural Detection
Antispyware – Protect yourself from identity theft and online fraud.
Antiphishing – Get web pages and e-mails authenticated, so you can surf, shop, and bank safely online.
Backup to secure the important files from computer crashes, damage and theft.
Support 24/7 Live Chat, e-mail and Remote Access to contact directly from the program
BullGuard Internet Security is normally priced at $35 per single license. As part of promotion in collaboration with Webuser, BullGuard is offering free 6 months subscription of BullGuard Internet Security 10.
In order to grab a free copy of BullGuard Internet Security 10, go to the following URL to register:
http://www.bullguard.com/bg/webuser.aspx
Fill in the name, email address, and then click Submit button to register.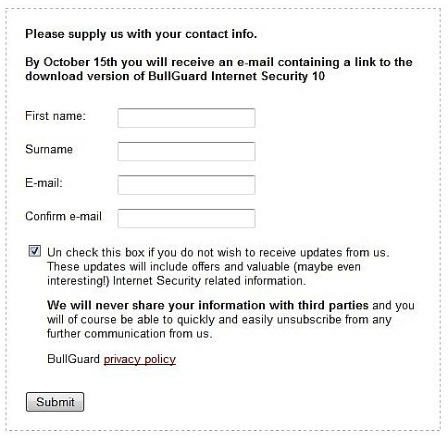 Users will receive an e-mail containing a link to download the BullGuard Internet Security 10 before 15 October 2010,
BullGuard Internet Security 10 is compatible with Microsoft Windows XP, Vista and Windows 7 operating system.