BullGuard Mobile Security is an easy-to-use and reliable antivirus software for mobile phone that provides complete protection against viruses, spyware, theft, malwares, and digital fraud. Bullguard Mobile Security features privacy protections that keep the contacts and calendar safe and allow users to locate phone using GPS to apply functions like lock, wipe, backup, alarm, remotely from a web based interface. In addition, it will scan all incoming traffic like SMS and MMS messages, Bluetooth, emails and downloads for malicious programs.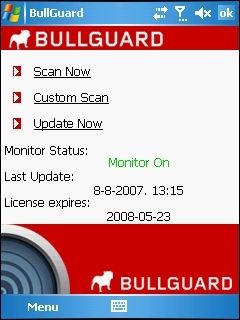 Features of BullGuard Mobile Security:
Antivirus
Antispyware
Antitheft
Parental Control
On-Demand Scanning
On-Access Scanning
Firewall
Spamfilter
Basic Backup
Automatic up to date
Supports 24/7 personal assistance for all security-related questions
Bullguard Mobile Security normally cost $30 per single license. As part of special launch promotion, BullGuard is giving away 5,000 special edition of BullGuard Mobile Security.
To get the free copy of Bullguard Mobile Security, follow these steps:
Visit the promotional page at the following URL to register: http://www.bullguard.com/Mobile_v3/landingpromo.aspx

Fill in the form by enter the email address, and then click on "Continue" button.
An email from "BullGuard Technologies" will be sent to registered email containing the link to download the setup installer and a license key code for Bullguard Mobile Security.
Select "Install Manually" and choose the appropriate version for the device to enjoy the fully licensed Bullguard Mobile Security.
BullGuard Mobile Security is available in multiple languages for Windows Mobile, Android, Blackberry and Symbian operating system.