The market-leading developer and publisher of mobile gaming products, PressOK Entertainment has brought the mobile version of Bumper Stars game to Apple's iPhone and iPod touch, which the company describes as an addictive mixture of pinball, pool and shuffleboard, allowing iPhone and iPod touch users to play one of the most popular Facebook games either solo or against their friends.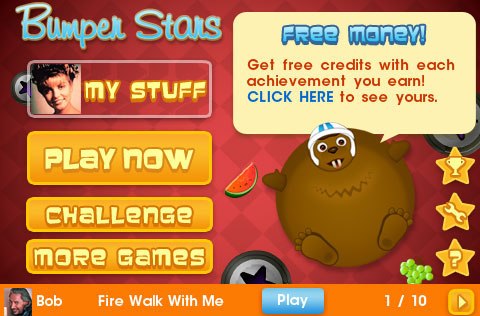 "As a publisher of mobile entertainment products, PressOK Entertainment is always trying to make games more accessible and dynamic for players," said Ryan Morel, vice president of business development, PressOK Entertainment. "iPhone and iPod touchd users will love playing Large Animal's very entertaining game and connecting to the thousands of Facebook users playing it every day. Using Facebook Connect, we are able to provide Facebook users the ability to play, score and challenge their existing Facebook friends straight from their handsets."
"The iPhone and iPod touch are the perfect formats for Bumper Stars, enabling existing fans to play, challenge and enjoy Bumper Stars wherever they are. This version also opens the game up to a whole new set of players that may otherwise have missed out on the fun," said Wade Tinney, CEO and founding partner of Large Animal Games. "With over seven years in the mobile game business, PressOK Entertainment is the perfect partner to bring Bumper Stars to mobile."
Bumper Stars Mobile game for iPhone and iPod touch is now available on iTunes App Store for $2.99, and the company will also bring the Bumper Stars to Blackberry, Android, J2ME and BREW platforms by the end of Q3 2009.