Fujifilm has reached a new milestone in its camera series by announcing its first ever touch-screen digital compact camera, FinePixZ300. Available in four color schemes, the stylish and elegantly designed camera features a 3" LCD Touch Screen panel which allows users to control and play around with the built-in features with just a simple finger touch. Users can touch configure the setting, snap photos and slide the images for replay conveniently using just their finger tips. In terms of camera features, the pocket size camera offers 10-Megapixel and 5 optical zooming ability, dual image stabilization function, ISO settings up to 1600, scene recognition AUTO, group/couple self-timer modes, auto red-eye removal and intelligent file management system.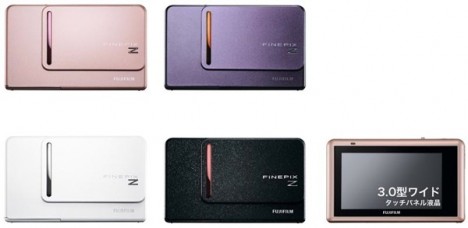 The smart file management system allows users to do quick search for image files via its unique Fujifilm Z300's search facility. Users can do various search options such as search by date, face, close-up, group search, scene search, split in to face, landscape, night and macro. Users are given 5 different folders to store and manage their images. For instance, the Blog Mode folder will resize the stored images for users to upload easily online.
The sleek and modern Fujifilm FinePix Z300 is priced at about $400 and will be available in Japan by the end of June.