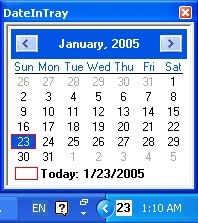 Need a quick reference to a calendar while planning weekly schedule for your office staff? You do not have to hunt high and low for that elusive table calendar for you can get a small subtle calendar program added to your Windows. DateInTray is a free and useful calendar application that displays the current date in the Windows tray. A click on the calendar icon will prompt out a minuscule calendar displaying the dates for the whole month, and with arrow buttons to move to the next or previous months. This application makes it easy for one to refer to dates at a glance and to do planning more conveniently. This application can be added to the Startup folder in the programs menu so that it automatically starts every time you log in.

Get hold of the tiny application DateInTray via the link here:
Self-extracting installation package: DateInTray 1.5 (.EXE file, 103Kb)
Compressed archive file: DateInTray 1.5 (.ZIP file, 94Kb)
If you're downloaded the self-extracting installation package, just run it and follow the setup instructions. If you're downloaded the compressed archive file, unpack it to the temporary folder and run the DITSetup.exe file. DateInTray is compatible for Windows OS only.