Touch screen capability is not something really new especially in smartphone and mobile computing. But you will be surprised to hear that Canon has recently filed a patent with idea related to touch screen on its future Digital SLRs. However, instead of directly filing a general touch screen capability that has already in many other products, the famous camera manufacturer has taken a more innovative approach by disclosing a new idea that can be used to disable certain touch screen features automatically when the users hold and view closely through viewfinder to prevent accidentally touch to activate certain functions unintentionally.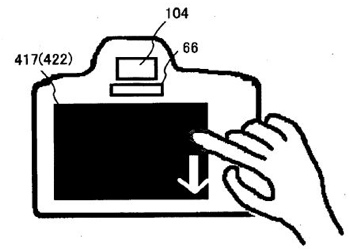 The patent filing further detailed that users can inform the system by setting which eye would be used the viewfinder and hence disable certain touch screen features while still leaving other functions controllable for much faster and easy access. Some functions like ISO, flash, white balance, metering and etc will be completely adjustable using touch screen interface that may totally replace and eliminate the conventional way of scroll wheel or directional pad.
Although patent filing normally doesn't guarantee that the actual idea will be implemented but this could be a good indication that DSLR series may be featured with touch screen design while still having certain intelligent sensors or settings in order to differentiate themselves from other competitors' solutions.