Canon has announced the PowerShot A480 digital compact camera to replace it predecessor model A470. The new PowerShot A480 offers more compact design and more user friendly. It is about 25% smaller than the A470 and includes a new simplified button for easy to use.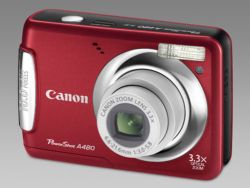 PowerShot A480 also offers lot of features such as flexible framing of shots is made easy by a 3.3x Canon optical zoom, Canon DIGIC III processors delivers high image quality, Face Detection Technology, superb color reproduction and Motion Detection Technology.
Highlight Key Features of PowerShot A480:
Compact, lightweight 10.0 Megapixel camera in four colour variations  include silver, red, blue or black.
2.5" LCD with Image Inspection Tool for focus checking.
Canon 3.3x optical zoom.
Easy to use, with simple button layout and intuitive user interface.
Red-Eye Correction in both shooting and playback.
DIGIC III processing delivers high-quality images and intelligent technologies.
People shots made easy with Face Detection AF/AE/FE/WB and.
Combats blur with Motion Detection Technology.
Smooth, 30fps VGA movies with Long Play mode.
15 shooting modes.
Safety FE avoids blow-out when the flash is used.
Powered by AA batteries.
Dimension of 92 x 62 x 31 mm and Weight of 140 grams.