Action footage is the hardest to capture as many great stunts involving speed and movement have missed their moment in the limelight. How does one carry out the action and capture these exciting moments at the same time? Tachyon XC and XC 3D are the answers to your dilemma. The XC and XC3D are cameras that can be mounted on the helmet, the dashboard, boat, or fender to capture exciting stunts and action. The XC camera retails for $180 while the XC3D model has a price tag of $380.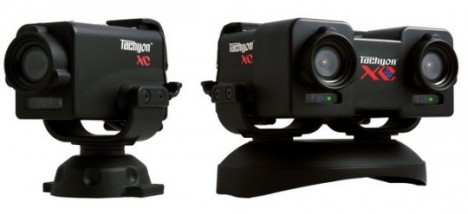 The Tachyon XC3D comes with two cameras for capturing the action from different angles. It is best for action-packed adventures and sports as well as sightseeing and city-hopping. As some of the best action takes place in water, the Tachyon XC3D has been designed to be not only shockproof but also waterproof. It can take amazing underwater film for water sports and diving enthusiasts. Other features include remote control, time-lapse setting, and 90 degree wide-angle view. The video clip can then be edited using any ordinary editing software and uploaded to YouTube for sharing with family and friends.
Weighing 5.5 oz each, the 3D cameras, especially, can get in the way of adventurers and sports lovers. While quite user friendly, operating two cameras at the same time can also be a delicate balancing game as one of the cameras may not be filming when the action starts. If one can live with these setbacks, the Tachyon XC3D model offers a chance for you to capture your experiences in 3D without an expensive or sophisticated 3D system.