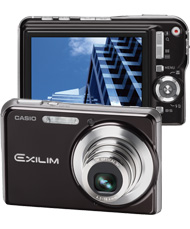 Casio Computer Co. Ltd has collaborated with Google Inc to develop its first digital cameras with a video mode optimized for the popular video-sharing web site, YouTube. These cameras are called Exilim EX-S880 and EX-Z77. The cameras come with software which allows users to upload clips to YouTube with a single click. Under this collaboration, Casio is given exclusive rights to this YouTube features until end of the year.
Both EX-S880 and EX-Z77 are slim and able to fit into a shirt pocket. EX-S880 features an 8.1 megapixel image sensor that delivers pictures at up to 3,264 pixels by 2,448 pixels resolution while EX-Z77 comes with a 7.2 megapixel image sensor and able to delivers pictures up to 3072×2304 pixels resolutions. Both have 3X optical zoom lens and have more than 10MB flash memory. Read more on EX-S880 and EX-Z77's specifications from Casio.
To get a clip onto YouTube, first of all, users need to switch the camera to YouTube-optimized mode which will set the capture to 640-pixels by 480 pixels at 30 frames per second. After this setting, users can shoot their favourite video clips. Users can thence slip their camera into a dock, which comes with the device and plugs into their PC (Windows XP SP2, 2000 SP4 and Vista only). This automatically starts a video management application on the computer and grabs the movie files. The application can be set up with a YouTube account, default title name and other settings, so getting the video online involves simply clicking the upload button. Alternatively, users can enter information specific to the clips and then upload them. Once users have completed the uploading process, it normally takes about 10 minutes for the clips to appear on YouTube.
EX-S880 and EX-Z77 will be released worldwide, starting in the US in August. EX-S880 will be priced at US$300 and the EX-Z77 at $230.