An elegant but delicate phone might probably not be so suitable if you work in a harsh environment or are always involved in extreme outdoor conditions. Getting a tough phone which is compromised on the appearance may perhaps prove more suitable as it can prevent you from changing your mobile phone repeatedly. Made in accordance to U.S. military standards, MIL-STD-810F, Verizon has brought to users a super solid and rugged Casio G'zOne Brigade handset.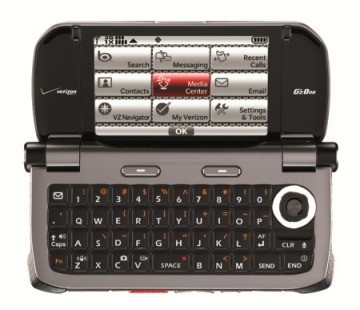 The Casio G'zOne Brigade phone is water and shock resistant. This tough phone can be flipped open horizontally for a full QWERTY hardware keyboard and a 2.9-inch screen (480 x 270 resolution) for easy viewing and typing. Besides its toughness, the phone also features various useful functions such as Text-to-Speech ability (convert text messages, emails, etc to speech), HTML browser compatible and the availability of document viewer (for word, Excel, PowerPoint and PDF).
With its 3.2-Megapixel camera with LED flash, users can capture images or do video recording under the harshest condition. Some useful camera features such as auto focus, BestShot (an auto feature which will change the pre-set camera modes in accordance to the background) and a quick performance tool (minimize blur effect due to shaky hands) will help outdoor users a lot to take some shots even in the most testing of situations. Other interesting features offered by Verizon include additional Micro SD memory card slot (up to 16GB), speaker phone, GPS, Push To Talk for instantaneous communication, and voice recording.
Tagged at $250, Casio G'zOne Brigade rugged phone is useful for both the working traveler and the adventurous explorer.