Casio has officially introduced its new ultra-slim Casio TRYX pocket-sized camera with an innovative new design, which the company described as the changeable, poseable, hangable camera that allows for snapping a shot from just about every angle.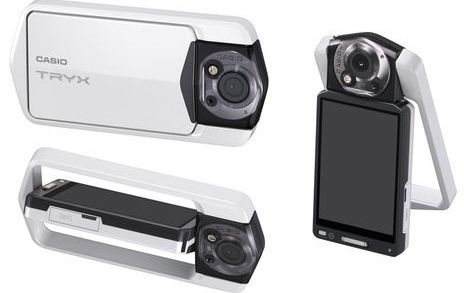 Unique features of Casio TRYX:
12.1 megapixel back-illuminated CMOS image sensor
3.0-inch TFT LCD touchscreen with 960 x 480 pixels resolution
Casio Exilim Engine HS
Full HD 1080 movie capture at 30fps
High-speed SR (Super Resolution) Zoom
High-Speed CS technology
HDR-ART technology
HDR (High-Dynamic Range) technology for best possible shot
Slide Panorama
Slow-motion video recording
"TRYX truly is a remarkable camera and its announcement is a defining moment for Casio," commented Toshi Iguchi, Senior General Manager for Digital Imaging Division at Casio America Inc. "Unlike anything the industry has ever seen, TRYX brings unparalleled innovation and versatility straight to consumers' hands with a radical new design. This is a camera which was designed specifically to meet the needs of the creative and connected consumer, looking for a unique digital imaging experience and a camera to compliment their lifestyle and personality."
The revolutionary new Casio TRYX digital camera which measures 4.83 x 2.32 x .59 inches and weighs approximately 5.47 ounces is scheduled to be available in April 2011 for around $250.