Searching the solution to simplify the process of printing photos captured on your beloved Apple iPhone or iPod Touch device? The global Product Engineering Services company, Celstream Technologies has launched its new revolutionary mobile printing application – iPrintApp, which allows iPhone and iPod touch fans to directly print photos to any compatible printers via Wi-Fi network, aiming to enrich your iPhone or iPod touch's experience.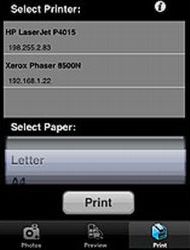 "With iPrintApp, users can print photographs stored on their iPhone or iPod Touch devices directly to a printer via WiFi, without going through the cumbersome process of transferring images to a computer prior to printing," said Ranga Raj, CEO of Celstream. "This feature, along with a host of other benefits, makes iPrintApp the most efficient printing solution available in the marketplace today."
Main Benefits Of Celstream's iPrintApp:
Eliminates the need for cabling, server application, USB and Bluetooth drivers
Leverages Apple's Bonjour technology to automatically detect any networked printer supporting PostScript or USB printers using Mac SharedQueues within the wireless network
Prints multiple photos on a single sheet
Selects up to 12 images per print job
Rotates images while keeping the image aspect ratio intact for best fit, thanks to the automatic layout management
Print preview function allows the users to delete or reselect photos while using the resize option to zoom or shrink images as desired
Users are allowed to accept incoming calls while using the application, during which the state of the application is saved so that the users can continue using the application once the call is ended. The same feature is applicable if the 'home' button is pressed prior to printing
"Mobile photo printing is expected to grow at a rapid pace with users now having the freedom and flexibility to wirelessly print photos captured and/or stored on their iPhone and iPod devices," added by Raj. "Printer manufacturers and Print Service Providers can leverage this trend to increase print sales volume and attract this new set of customers."
The new Celstream iPrintApp that compatible with Apple's OS X platform is now available through Apple App Store for just $1.99.