CES 2010 (International Consumer Electronics Show) is happening in Las Vegas, Nevada, USA from January 7 to January 10, 2010, featuring 2700 exhibitors. And one of the exhibitor is Microsoft, whose CEO, as a tradition, also delivers pre-show keynote address to kick off the CES.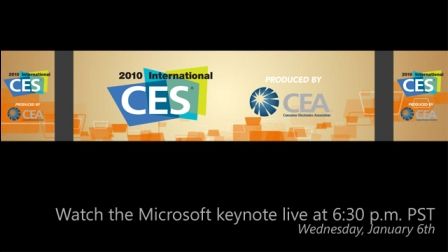 Steve Ballmer, chief executive officer of Microsoft, who replaced Bill Gates to deliver keynote during CES 2009 for the first time, and Robbie Bach, president of the Entertainment & Devices Division, are scheduled to deliver the pre-show keynote address at 6:30 p.m. PST on Wednesday, Jan. 6, at the Las Vegas Hilton, Hilton Center.
For people who interested to watch the keynote address live, Microsoft is streaming and webcasting the keynote address live and on demand at the following URL:
A on-demand webcast of the Steve Ballmer keynote address will also be up on the same location after keynote address finishes.
For members of the media who cannot attend, and prefer to watch the keynote address on TV, satellite feeds containing keynote highlights is also available through the following coordinates:
Feed 1: Jan. 6, 9:30–9:45 p.m. PST
AMC 15 Transponder 01 (KU-Band, Analog)
Downlink Frequency — 11720 Vertical
Feed 2: Jan. 7, 1–1:15 a.m. PST
GALAXY 28 Transponder 10 (C-Band, Analog)
Downlink Frequency — 3900 Horizontal
Feed 3: Jan. 7, 4–4:15 a.m. PST
GALAXY 28 Transponder 10 (C-Band, Analog)
Downlink Frequency — 3900 Horizontal
International Feed: Jan. 7, 06:00 GMT
Available via the Reuters World News Express to Reuters subscribers for seven days