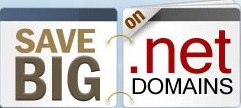 Looking to register an Internet domain name with .NET top-level domain and want to get the domain name cheap? Surfnova has a promotion going on that offers .NET top level domain name at an discounted price of USD $6.99 per year for new registration and renewals, and even lower USD $5.99 per year if users transfer .net domain to Surfnova, taking advantage also of the easy to use Orderbox control panel.

.NET domain is one of the most widely used top level domain in the world and one of the fastest growing gTLDs at the moment, and is the largest generic gTLD after .COM. And .NET domains can be used to represent virtually any web-site, blog or e-commerce site. If the .COM top-level domain is already taken up for the desired name, the .NET is a viable alternative to establish an online presence. Furthermore, considering a extremely low price for the .NET domain name registration, probably the cheapest on Internet.
Purchase .NET Domains and save big money at a never before rock bottom pricing of $6.99 (or $5.99 if you transfer your domain) per year at Surfnova. The promotional price ends on 27th December 2007. Most importantly, you can register multiple years for up to 10 years to take advantage of the rare promotional discount on .NET domain. All .NET domain registered also bundled in free private registration, which protect registrant privacy by hiding registrant details.
Note: Surfnova.com is affiliate of My Digital Life.