Memory or RAM is one of the most important electronic hardware component on a computer systems, not only in term of speed or clock frequency and size, but also the reliability of hardware ecosystem of the RAM sticks or memory modules and its subsystem. For RAM to operate optimally, reliably and stably, there shouldn't by any physical error or defect problem or issue on the memory chip, or else data processed may corrupt, programs may crash, or computer may hang, freeze, reboot or restart unexpectedly, unpredictably, and erroneously.

Windows 7 has a built-in diagnostics tool that allows user to check for problem, if any, that caused by memory or RAM in the computer. The diagnostic tool, Windows Memory Diagnostic can run details tests on the physical memory installed on the computer, and list any errors that are found for troubleshooting. Here's various ways of how to run the Windows Memory Diagnostic Tool in Windows 7: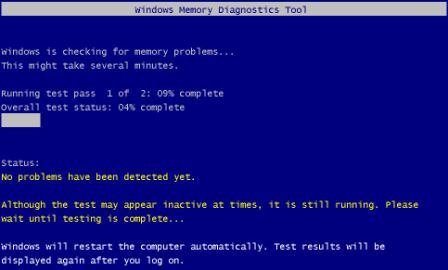 Click on the Start button, then go to Control Panel –> System and Security (Category View only) -> Administrative Tools.
Run Windows Memory Diagnostics tool.

Alternatively, click on the Start button, type Windows Memory Diagnostic in Start Search box, and then click on Windows Memory Diagnostic on the search listing, or open an elevated privileged command prompt window with administrator's rights, and type mdsched.exe then hit Enter.

The "Windows Memory Diagnostics" window will be displayed.
Click on Restart now and check for problems (recommended) option.

Alternatively, click on Check the problems the next time I start my computer to schedule the memory check on next restart.

The computer will restart, and the tool will run. By default, a Standard text mix will be selected and started automatically.

Press F1 to configure various Windows Memory Diagnostic Tool options such as the type of Test Mix: Basic, Standard and Extended and pass count, which is the number of times the tests will run. they run. Press F10 after finished configuration to start Windows Memory Diagnostic again to scan and check for possible RAM issues or memory problems. The test may take several minutes.

After the test is finished running, the computer will be automatically restarted and report any errors found or detected the next time user logs in to Windows.
Windows Memory Diagnostics can also been accessed via Windows Boot Manager or Boot Menu with the following steps:
Restart the computer.
On initial boot up screen, press F8 to bring up Advanced Boot Options menu.
On the "Advanced Boot Options" menu, press Esc key to go to Windows Boot Manager screen.
In "Windows Boot Manager" screen, press Tab to select Windows Memory Diagnostic in the Tools section.

Windows Memory Diagnostic utility will launch, and continue to follow steps listed above.
Note: On some systems, Windows Memory Diagnostic Tool may be selectable on the first boot menu screen. On some dual-boot or multi-boot systems, Windows Memory Diagnostic Tool may be accessed via F8 key.
Windows Memory Diagnostic utility is available for Windows 7 and Windows Vista.