Nokia 7205 Intrigue is that – intriguing. The elegant and sophisticated-looking flip phone sports a glossy black exterior which only lights up with incoming calls or messages. The unique display remains secretly hidden until illuminated. Users can perform a number of functions including reading messages, playing music or snoozing for a few minutes from the external display itself. Once the phone is slid open, a gradient color keypad ranging from pink to grey is revealed with different directional keys.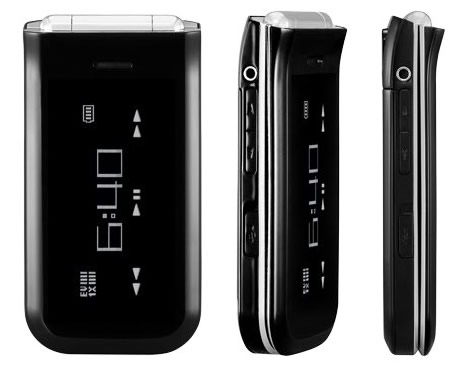 Apart from its chic looks, Nokia's Intriguing is packed with exciting and sophisticated features for both entertainment and communication. Music features prominently in this Generation-Y cellphone. Users can listen to songs from V CAST Music with Rhapsody or Visual Voice MailSM. Upon subscription to V CAST Music with Rhapsody users canare allowed to choose from more than 5 million songs over the air and download the master copy of their songs to their PCs. Users can even synchronize their favorite tracks, albums and playlists from their PCs to their phones. More conventional features include One-touch dedicated camera/video button and a 2.0 megapixel camera with flash, the ability to upload photos to customers' favorite social networking site, and Bluetooth profiles supported headset. The Nokia 7205 Intrigue comes with a microSD™ optional removable memory with up to 8 GB for additional storage.
Intrigue also comes with visual voicemail and a unique feature called Habitat mode. Once activated, users' contacts will be represented by an avatar on the 2.2 inch screen; the contact's information, text messages and call details will be automatically grouped together for easy reference. The most recent contact will appear first on the avatar list and users can even customize the avatars according to their preference.
Intrigue also comes with environmentally-friendly features. The phone has a low no-load charger that reduces energy consumption as well as alert users when the phone is fully charged. Even the box comes in compact packaging made from 100% recyclable paper.
The 7205 Intrigue is available now on Verizon. Priced at $129.99 after a $50 mail-in rebate, the phone comes with a new two-year customer contract. Monthly access for the V CAST Music with Rhapsody service costs $14.99 while Visual Voice Mail is available for $2.99.