The premier publisher of innovative games and software, Chillingo, and the independent development studio focused on the production of console games for multiple platforms, Abstraction Games, have announced the debut of the puzzle game Potpourrii on Apple App Store.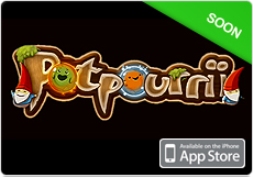 "Abstraction Games has really gone all out in re-engineering Potpourrii to be a truly unique gaming experience on iPhone and iPod touch and we're delighted with the gameplay they've designed for users to enjoy," said Chris Byatte, co-founder and director of Chillingo Ltd.
"We know Chillingo's publishing and marketing experience will give us the needed edge to make Potpourrii a success story in the Apple App Store and a hit with customers," said Ralph Egas, Founder and Managing Director of Abstraction Games.
The Potpourrii casual puzzle game for iPhone and iPod touch is available through Apple's App Store for an introductory price of $0.99.