If you prefer to have those newly captured images from your iPhone to be transferred to your home PC without the need of USB synchronization cable, that is how the app is useful for. Named as Cinq Free, it is a free utility that allows you to seamlessly transfer all of the photos captured using your iOS devices (either iPhone or iPod touch with camera) to PC almost anytime anywhere (as long as there is network coverage).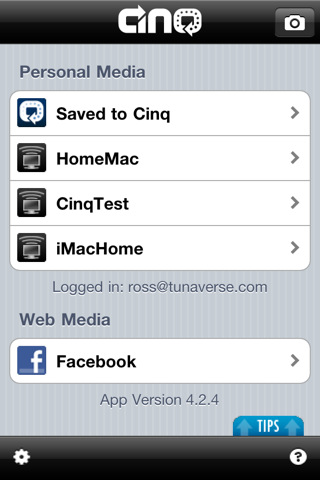 If you remember, its function resembles the famous Eye-Fi memory card concept and with little effort to set it up correctly during first time use, the rest of photos transferring will be done with the help of this tiny app. Basically there are only three steps involved to set it up. First, download and install the App into iOS devices. Then, download Cinq Server from cinq.tunaverse.com into PC followed by sign up/sign in and you are done. Besides basic functionality, there is an extra feature that can support retina display with 4x higher resolution to deliver sharper images with zoom-in viewing capability. That is not all, users can enjoy great social networking photo sharing with direct images uploading to Facebook or Twitpic account seamlessly and instantly.
Compatible with all iPhone, iPod touch and iPad with iOS 4.2 or later, Cinq Free is free for download now from App Store. And on the PC requirements, it needs either Apple OS X 10.5 or higher or Windows XP/Vista/7 to install the Cinq server for them to work correctly.