Printing on papers have been daily routine for many computer users, whether it's at home, office, or work. CleverPrint is an easy to use Windows utility from Abelssoft that allows users to handle daily printing sessions in a much more impactful way. With CleverPrint 2010 Professional, users able to combine multiple pages on a single sheet of paper, organize one or several documents in different layouts, remove specific pages, add a watermark or a letterhead, remove borders or graphics, and customize the sheet's background color.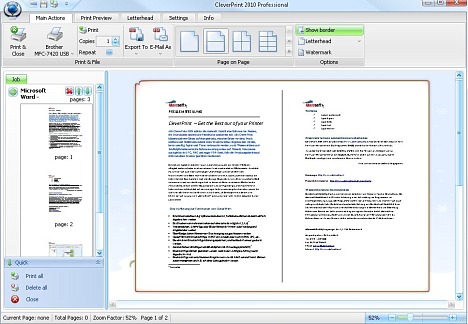 Features of CleverPrint 2010 Professional:
Pages that do not want to print can be removed easily.
Multiple print jobs can be combined and printed into single page from different programs such as Microsoft Word, Open Office and Adobe Reader.
Print Preview shows precisely how the job will be printed.
Optimize Print Jobs.
Save Time.
Watermarks, text or pictures can be inserted in foreground or background of the print job.
Remove unnecessary pages from large print jobs.
Can export jobs into PDF, PNG, or JPG.
Print jobs can be saved easily and printed again later.
As a holiday promotional offer, Abelssoft is now giving away free license key code for CleverPrint 2010 Professional. To grab the free copy of CleverPrint 2010 Professional legally which normally cost € 39.95 to purchase, just follow the below steps:
Visit the promotional page at the following URL to register:
Click on blue link as image below to download CleverPrint 2010 Pro or using the direct download link to download CleverPrint 2010 Professional: cleverprint2010.exe

Then install it. When launching CleverPrint 2010, a pop up screen will appear to offer users to register to unlock the CleverPrint 2010 Professional.

Enter the email address, first name, and last name and click on "Get free unlock code now" button.
Instantly an email from "Abelssoft" will be sent, containing CleverPrint 2010 Professional registration serial code.
Use the received registration code to unlock and activate CleverPrint 2010 Professional.