System maintenance and cleaning up temporary files, history, cache, etc is one of the ways to speed up your computer and enhance its efficiency and security. If users do not like to use the cleanup tools which are available from Windows OS, Comodo offers a powerful computer cleanup suite, Comodo System Cleaner, for home and business users to do some system cleanup and maintenance tasks. Comodo System-Cleaner is free and it is available in 32 bit and 64 bit versions for XP, Vista and Windows 2003.

Technically, the Comodo System-Cleaner is a combination of Registry cleaner, Disk cleaner, Diagnostics tool and Privacy cleaner. This app has the Registry Cleaner's ability to scan the registry in the system for invalid entries, duplicate files, corrupted files etc. The scanning result will thence be shown to users and this will allow users to clean up the files manually. Besides, users can also perform tasks such as scheduling regular Registry cleanup programs and backing up/restoring Registry files.
The disk cleaner feature in the Comodo System-Cleaner app will perform a thorough scanning of the hard disk of the computer. It will scan for temporary files or duplicate entries and allow users to delete and cleanup these files from the hard disk. Similarly, users can schedule the cleansing activity on a regular basis. Users who want to clean up their online and offline privacy data can also use the privacy cleaner feature to clear up the history, cache and temp files of Internet browsers, instant messengers and Windows applications.
Comodo System-Cleaner generally helps to optimize the overall system performance by removing unwanted and unnecessary stuff from the system. It frees out more space and improves the system's stability. Users who want to download this Free application can download it via the link here: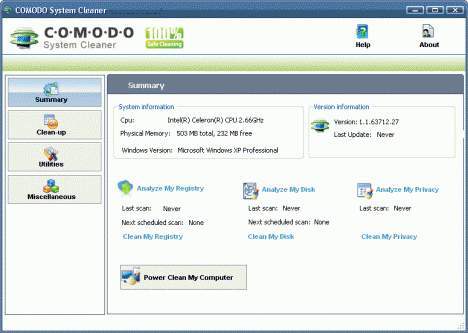 Features Summary
Registry Cleaner – Optimizes and repairs your Windows registry by running an in-depth scan to identify, remove or repair any unnecessary or corrupted entries. After running a scan, Windows will be able to access the information it needs from the registry much more quickly – meaning your computer will get an immediate performance and stability boost.
Disk Cleaner – Over time your disk drives become cluttered with temporary Internet files, logs, needless archives, unused icons and duplicate files. This utility lets you quickly clear them all to free up space and improve performance. Also allows you to schedule regular clean up routines.
Privacy Cleaner – Obliterate your digital paper trail by cleaning history, cache, cookies and usage records from Internet browsers, Windows locations and popular software. Privacy Cleaner also features 'File Wiper' – a tool that allows you to permanently delete unwanted files so that they can never be recovered.
System Settings – Unlock the full potential of your Vista or XP computer by quickly customizing otherwise obscure Windows settings with point and click ease. With over 50 tweaks in the 'System Settings' area alone, you can optimize Windows behavior in a more powerful and intuitive way than ever before.
System Information – Detailed and easily accessible 'dashboard' summary of all the hardware and software installed on your computer. Fast access to such details can be invaluable when you are considering hardware upgrades, the ability of your computer to run certain software and can assist you when judging whether to alter important system settings.
File Checksum Calculator – Powerful and easy to use tool that calculates the hash value (checksum) of any file using a variety of well known algorithms. The ability to calculate the hash value of a file and compare it to the published value allows users to verify the file's integrity. If the two values match, the file is genuine and is not corrupted, unusable or a potential malware in disguise. Likewise, developers can also use this tool to calculate hashes for distribution with their software.