Windows users mostly like to use Windows Live Messenger (formerly known as MSN Messenger) for instant messaging as this IM application comes along with every installation of the Windows operating system. Windows users can conveniently use it without searching for other IM programs. However, there are still people who hardly use Windows Live Messenger and find it as an eyesore in their Windows screen. If you are one of them, probably MSN removal/uninstall tool such as WLMUninstall could assist.

Note: Try to uninstall Windows Live Messenger or MSN Messenger properly with official uninstaller first before resorting to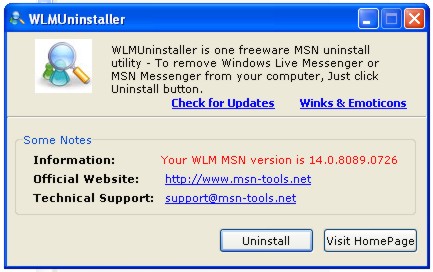 WLMUninstall is a simple and standalone program which doesn't require any installation. Users can just download the tiny MSN removal tool (225KB) via the link here. WLMUninstall shall not require the .NET Framework to run the program. Once it is downloaded, users just need to execute the file and click the "uninstall" button. The free MSN uninstall tool will uninstall or remove your installed Windows Live Messenger or MSN Messenger completely from the computers.