ConceptDraw PRO is a business graphics and technical diagramming application tool developed by Computer Systems Odessa. With ConceptDraw Pro, which comes with vector drawing tools, graphics libraries with hundreds of pre-drawn shapes, built-in scripting language, support for importing and exporting many popular file formats and countless other professional features, users can design professional-looking graphics, diagrams, flowcharts, floor plans and much more in just minutes.

ConceptDraw Pro is normally used as a 'Project Whiteboard' to visualize necessary business and project-related information in the form of charts and diagrams; to organize project Work Breakdown Structure (WBS), and to track tasks execution on an intelligent dashboard. It allows customers to maintain business processes performance with clear visual documentation, and effectively present and communicate information in a clear and concise manner.
Features of Concept Draw Pro:
Vector Drawing Tools
Libraries and Cliparts
Smart Connectors and Custom Connection Points
Layers and Texture fill
Presentation mode
Powerful text tools
Color palette
Alpha-channel (transparency)
Drop tool
Custom Properties
Intelligent Shapes
Built-In Scripting Language
Measuring units selection
Customizable toolbar and floating dialogs
Seamless integration
Web ready documents
Export to PDF
Export to Microsoft PowerPoint
Cross platform compatibility
WBS (Work Breakdown Structure) Chart
Project Status Reports
Monitoring project performance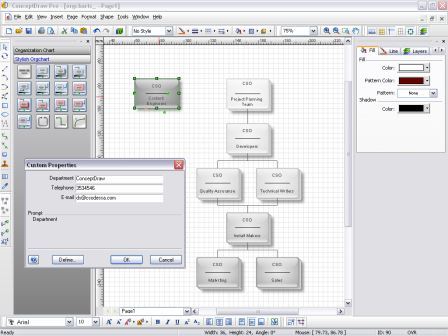 ConceptDraw Pro 7 is the older version of ConceptDraw Pro, which is now part of ConceptDraw Office. The last standalone ConceptDraw Pro available is ConceptDraw Pro 8. Anyway, Concept Draw Pro normally costs $249 for a single license. As part of CS-Odessa's exclusive program with media, the developer is giving away a full, unlimited version of ConceptDraw 7. To receive the free personal Serial Number for ConceptDraw Pro 7, required for installation and technical support, simply follow these steps:
Visit the registration page at removed due to request from developer.
Fill in the first name, last name and a valid email address, and click on "Register" button.

The serial number for ConceptDraw Pro 7 will be displayed on the web page, and the license information will also be sent to the registered email address.
Download the setup installer of ConceptDraw Pro 7 from the following direct download links: ConceptDrawProEn.zip
Install the ConceptDraw Pro 7 and use the serial key code to register and unlock the trial to full version program.