Windows Live Messenger (formerly named MSN Messenger, and colloquially referred to as simply MSN) is a popular and important communication tool nowadays especially for youngsters. Many people are addicted to this communication medium and might feel uncomfortable if they don't log on to their MSN. If you are one of the MSN addicts and cannot live without MSN, an easy way to treat your MSN sickness of course is via MSN web messenger which allows you to use it even when you are on the move and do not have your laptop along. Alternately, the other practical solution which keeps you in touch with your MSN group is via a portable MSN app called aMSN Portable.

aMSN Portable features all the basic MSN functions and allows users to text chat, video chat, display image, add emoticons, as well as do offline messaging, file transfer, chat logs, conferencing, etc. Users do not need to install it to the computer but can run it from any portable device such as a portable hard disk, pen drive, etc. Users can conveniently bring it along and plug it to any computer to enjoy the chatting joy with their contacts on MSN Messenger or Windows Live Messenger anywhere they like.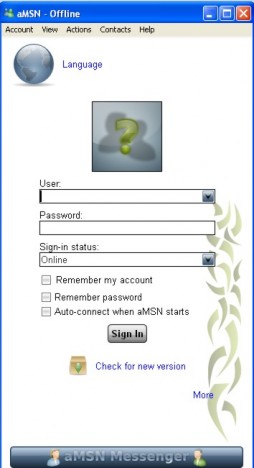 Users who want to use the portable instant messenger tool can download it via the link here. Double click to the downloaded file will create a "aMSNPortable" folder in your designated folder. Users can double click the executable file located inside the aMSNPortable folder to start the chatting program.