Some people may enjoy taking photo and some may enjoy drawing as their hobbies. For those who enjoy taking photo and lack in drawing skill may try out FotoSketcher to convert their digital photo into drawing image. FotoSketcher is a Windows application which can automatically convert digital photo or images into art work that look like painting, sketch or drawing.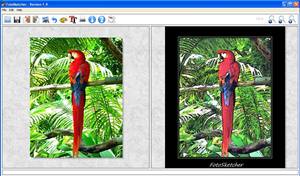 The conversion can be done neatly in few seconds. The application has been integrated with different styles like pencil sketch, pen, ink drawing and various painting renderings. In addition, it also include simple tools to enhance contrast, sharpening image, simplify image, increase luminosity, color saturation and etc.
The FotoSketcher is available as free to download from here and supports any version of Microsoft Windows including Windows 7.