With holiday season approaching, you may receive a lot of Christmas greeting in Flash file format which contain your favorite song. If you plan to convert the audio inside the Flash FLV to MP3, the free Flash Flv MP3 Converter is a tool that may be useful. The utility able to convert FLV to MP3 audio files, and allows user to extract audio file from flash FLV and convert FLV files to MP3 format. It has a user friendly interface and thus it's very easy to convert FLV to MP3 with just a few clicks. Beside that, it also features with built in MP3 splitter to extract or convert only part of FLV file to MP3 audio file and allow user to set the output audio bitrate, frequency and channels.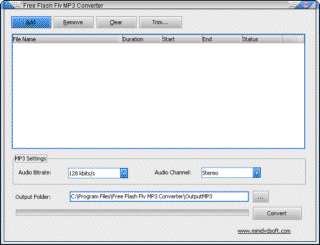 The below is the features of Free Flash Flv MP3:
Convert FLV files to MP3 audio files.
Convert batches of FLV to MP3.
Built-in audio splitter can cut your FLV file for converting to MP3 format.
You can set the output MP3's audio bit rate, frequency and channels.
High conversion speed and best quality.
Can specify the output directory and open it automatically when conversion completes.
Quite easy-to-use.
Complete free and available to download.