Glu Mobile has announced its Cooking Star application for iPhone. Cooking Star is a deliciously fun set of mini-games where the players get to tilt, touch, flick, tap and flip to cook up mouth watering meals, master the menu, and become a Star Chef.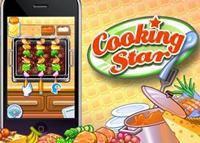 The Cooking Star has been developed by taking the full advantage of iPhone and iPod Touch features such as the accelerometer and innovative Multi-Touch user interface. It consists of eight mini games and allows users to master each mini-game to unlock real recipes and build their cookbook.
According to Jill Braff, senior vice president, global publishing, Glu Mobile, "Cooking Star is yet another example of Glu's exceptional repertoire of original IP games and our emphasis on bringing a wide range of titles to the very best mobile platform and devices", "Our team has created a fun, casual game for iPhone and iPod touch users where you are encouraged to play with your food."
The fun and innovative coking star is now available at App store for the price of $2.99.