CopyTrans TuneSwift is an utility tool which has been designed to transfer, backup and restore iTunes library from one PC to another. The utility tool allows the users to backup the iTunes library such as music, videos, apps, books, ratings, artworks, playlists and etc into a single backup archive file and restores it when necessary. The program has been improved with the incremental backup feature for saving the latest changes of the iTunes library instead of full iTunes backup.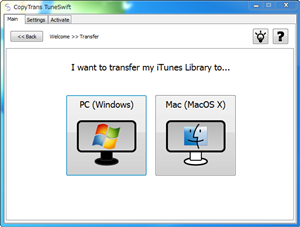 Key features of the CopyTrans TuneSwift includes:
Transfer the iTunes library from PC to PC or from PC to Mac.
Move all data from iTunes such as music, videos, apps, books, podcasts, ratings, artworks, all playlists and etc.
Make full iTunes library backups or save only the latest changes.
Load the new PC's empty iTunes library quickly and easily by transferring data from another computer.
Include iPhone, iPod Touch and iPad backups (apps, contacts, calendar, notes, SMS and etc).
Move the iTunes library to any folder, computer, external disc or flash drive.
Keep iPod, iPhone and iPad linked to the new iTunes library.
Supports Windows 7, Vista and XP and works with all iTunes versions as well as transfer from Windows to Mac.
In order to promote it brand new program, WindSolutions is now giving away CopyTrans TuneSwift for anyone until 15 March 2011. To grab the full version of CopyTrans TuneSwift, just follow the below steps:
Download CopyTrans TuneSwift v1.100: Install_CopyTrans_Suite.exe

Unlock and activate full version copy of CopyTrans TuneSwift with TUNESWIFT-ACTI-VATE-ME license key code.