Spending $19.95 to get a graphic application to view, edit and organize your digital images could be luxurious for some users given that there are many free but powerful photography programs or web-based graphic tools available. Having said that, if you do not like to install application or you always get frustrated with web based app due to the slow internet connection, the installation free graphics tool with the full set of editing functions, cPicture, is something you could probably have a peep at.

cPicture comes as a standalone executable and requires virtually no installation. Users can just double-click on it and get the program running. As mentioned, this graphics tool features quite a handful of editing, organizing and viewing functions, e.g. red eye removal; photo rotating, cropping and resizing, photo zooming, image slideshow, HTML gallery or photo index creation , thumbnail browsing, EXIF display, histogram view, photos fixing and repair, images quality enhancement, and so on. The features are quite handy and user-friendly.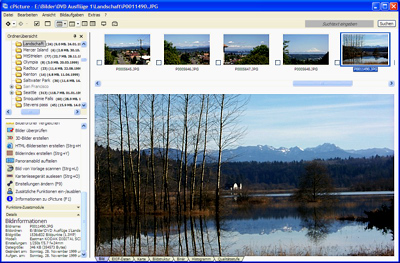 Since it is a standalone executable app, users can easily save cPicture in a USB drive and run it from the drive anywhere and any time. This app supports both Windows XP and Windows Vista.