Universal Share Downloader (USDownloader), also called RapidShare downloader or MyTempDir downloader is actually not a crack or hack program. Instead, Universal Share Downloader is a download manager for automated download a list of files from most popular free uploaders or free unlimited upload files hosting servers such as RapidShare, MegaUpload, YouSendIt, FileFactory and etc.

Normally, if you're not premium member or paid member or upgraded member of the free unlimited or one-click file hosting, web space and file delivery service, the service will has some limitations when you try to download the files from the server, such as no concurrent parallel download, so you have to download one file after another file has finished downloading. Beside, you're also limited to certain download bandwidth limit based on time and IP address, download time delay (reserve "download ticket" system and no instant download start) and slower download speed.
To disallow multiple threaded connections from free users (to prevent attempt to leech maximum bandwidth from the server), most free file storage sites for large files like RapidShare don't let you demand portions of files from the server, in turn sacrificing the resume feature that's so important to web downloads. With such limitations, to download the files, you have sit in front of PC and keep trying to download a file by a file, seriously dampen the convenience of the file hosting service. But with USDownloader, the process can be skipped, simplified and automated.
Universal Share Downloader currently supports downloading from more than 40 of the most popular online file sharing sites and the list keep increasing:
AllFiles, Audiofind, Badongo, BestSharing, Come2Store, Datenko, DepositFiles, EasySharing, FileDepartment, FileFactory, FileHD, FileSpace, GetFileBiz, HemenPaylas, HyperUpload, iFolder, MegaShares, MegaUpload, MyTempDir, Quickdump, Rapidfile.fr, RapidShare, RapidUpload, RecFile, SaveFile, Sendmefile, SexUploader, ShareAm, SimpleUpload, Slil, SpbLand, StoreandServe, SupaShare, TurboShare, TurboUpload, UniversalVideo, Upfile, Upload2, Uploading, UploadPort, UploadSend, WebFile, WebFileHost, YourFile, YourFileHost, YourFileLink, YouSendIt and zShare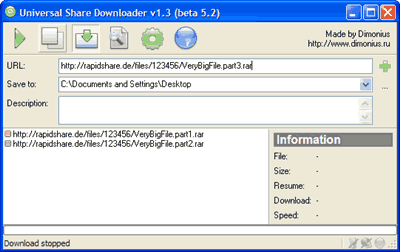 As said, Universal Share Downloader is not a crack or hack program, instead it's a convenient tool that allows you to queue multiple files and the USDownloader will download all the files one by one, as the uploader service allows. USDownloader even waits for the download ticket (for the uploader system that implement it) to be reserved and then starts downloading the file automatically. If the server disallow resume broken download or multiple concurrent connections, the USDownloader will also unable to resume from these uploader servers, although it has broken download resuming support built in which will be used to download the files from the sites that support resume download.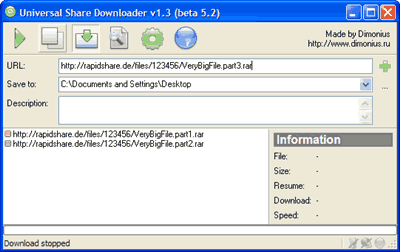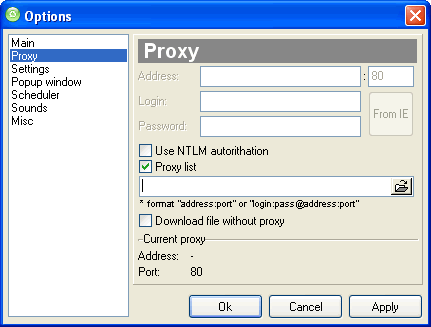 Universal Share Downloader also support using a HTTP proxy to download the files, which is commonly supported by other download managers too. What is unique is that it supports "proxy lists", which are a list of available proxy servers listed in a text file that the USDownloader will use randomly to switch proxy. This enables USDownloader to reveal different IP address to the server in order to bypass bypass IP address based bandwidth limitations imposed by the various file sharing service such as RapidShare. RapidShare limit the downloads 30MB of files in one hour. If your connection gets broken at when the bandwidth limit hit or you have used up the bandwidth, you'll have to wait till the next hour to download the files again from RapidShare. By supporting the "proxy lists", the download becomes even simpler because you just need to list all the public proxy servers in a file and no need to manually change the proxy server once the download limit is finished on the current IP address.
Note: For proxy servers list, you can download a software called GeoWhere and use GeoWhere to search for available proxy servers on the Internet, and put all the found proxies into a text file. You should use only anonymous proxy, as transparent proxy will reveal your IP address too. Alternatively, several websites has a long list of open public proxy servers that can be used by the USDownloader such as Proxy.6te.net, Proxy.org. Proxy List even allows you to download list of proxy servers in a text file format (remember to download only anonymous or elite proxy by searching for the type before downloading).
Universal Share Downloader greatly enhanced by plug-ins system. All support to the file sharing download services is by plugins. For sites that implement security code and privileged, premium, paid or upgraded system, there are even different plug-ins that allow you to use:
Normal Plugin – usual, automatic plug-in.
"HA" – half automated or semiautomatic. When to program needs to obtain the code, it will shows window loaded with web page with the security code by picture and you need to verify the code by keying in the code into the box. The best part of this plug in is the program will work even if there is any change in the form of the code. But you have to manually input the security code when window appears and it cannot work together with full-automatic plugin.
"A" – alternative. On some sites the reference code can be obtained as usual, but sometimes it may failed. In this case, the plug-in will try to obtain the code by another method different with the usual plug-in (for example through anonymizer).
"P" – premium. Plugin for the premium, paid or upgraded users.
You can put several plug-ins for the same site in the "Plugins" folder (other than Automatic and HA plugins which shouldn't exist together). USDownloader is smart enough to utilize the next available plug-in for the service if the current plug-in fails to return the security code.
As with other typical download managers, USDownloader has a scheduler, pop-up notifications, the ability to disconnect you from the Internet when a download is finished, various language support (it will ask for your prefer language at the first usage, after that you can easily switch language), ability to change download folder and so on. It also can work from command line (use "USDownloader.exe /?" to check which parameter is available)
Best of all, Universal Share Downloader is a freeware, and no installation needed. Just download the USDownloade 1.3.3 zip file Universal Share Downloader v 1.3.4 Beta 8 zip file , extract it and run the USDownloader.exe. The few limitation of Universal Share Downloader include unable to download normal download links (it works on those file sharing/hosting services only), and it itself yet to support parallel, concurrent and multi-threaded downloading in current (1.3.3) version (to enable it now, you have to launch multiple USDownloader.exe)
Homepage (in Russian): Universal Share Downloader