Any plan to touch up your website by adding stunning header that makes it more attractive? Xheader is a freeware application which designed to help the user to create amazing header graphics in minutes. The program is simple, easy to use and doesn't require any previous knowledge of graphics design. Xheader has come with many default templates in different categories and it allow the user to select the header font, text size, transparency effects, shadow option and etc.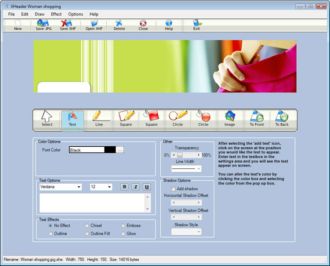 The below list is the key features of Xheader :
Create headers from scratch or use the built in templates.
Acound 1000 header styles available.
Quick and easy header selection from category listing.
Auto resize headers to fit specific needs.
Preview the designs in default browser.
Change background of main screen.
Able to create shapes such as squares, rectangles, ovals, circles.
Add transparency effects to shapes.
Add own graphics, logo and etc.
Select a transparent background color for imported image.
Add and edit rext elements and also transparency effects to text.
Add special text effects such as glow, emboss, chisel & outline. 
Free to download.