Shape Collage is a photo collage maker similar to that can create extremely impressive collages in different shapes, posters or photo mosaics in less than a minute with just few mouse clicks. Shape Collage is developed by Vincent Cheung, who has previously worked at Microsoft Research and Google. The intuitive user interface design has made it simple and easy to use.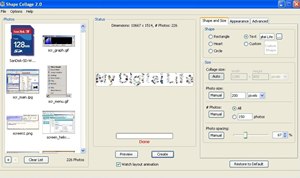 The users able to make collages in any imaginable shape or form like rectangle, heart, circle, letters or even draw their own shape. It also featured with several option include adjust the collage size, size of the photos, number of photos and spacing between photos. Additionally, it also allows changing background, the color of the border and etc. The user can save their collage photos in JPEG, PNG or Photoshop PSD format.
Shape Collage creates collages using an intelligent machine learning algorithm that automatically places the photos in the collage so that they form the desired shape, be it a rectangle, heart, circle, snowman, text, or logo. You can even save the collage as an Adobe Photoshop PSD file, and edit the collage afterwards in Photoshop or GIMP.
Shape Collage is absolutely free, lightweight, written in Java and is available in three versions which support , Mac OS x and Linux.