A search engine is an important system to assist IT users to retrieve data or information as and when the users required it. When come to internet, the search engines such as Google and Yahoo have done very good job to assist net users to look for information within a very short period. But when it comes to personal computer, any method to minimize the retrieval time to search data or information? Well, you can try out Copernic Desktop Search. Copernic Desktop Search is a desktop search engine compatible with Microsoft Windows family of operating system that designed particularly to assist users to retrieve data or information such as pictures, music, videos, emails, contact, internet browser history, etc hiding inside your computer.

Copernic Desktop Search is a freeware developed by Copernic Technologies. It is available for downloading via the link here. After installing this powerful search engine for your PC, you can install and run it. The installation process is pretty straight forward. After installing, the search engine will start carrying out the initial indexing of your computer data. The indexing exercise will take a while and you can only use the search engine once the indexing process has completed.
Copernic Desktop Search can be launched from multiple points. Besides using shortcut from your desktop, users can also used the Copernic Search Bar. Copernic Desktop Search will automatically add the Copernic Search Bar under the Windows Taskbar and the MenuBar of the IE browser. Copernic Search Bar provides you an instant search for your data or information stored in your computer.


Copernic Search Bar in Windows Taskbar


Copernic Search Bar added into the MenuBar of Internet Explorer
You just key in the data or information that you are searching for, the Copernic Search Engine will display the search results from a small pop up windows. It is very convenient and easy to use.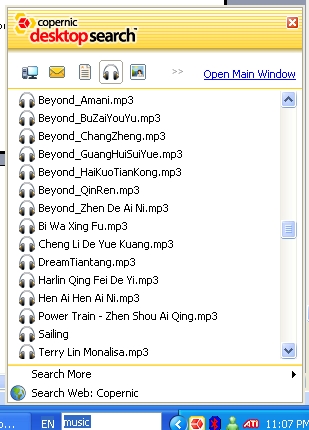 Besides the files stored in your computer, Copernic Search Engine also can be used to do quick search on web history, emails, contacts, video, etc.