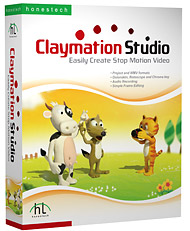 Claymation Studio is a software package that you can look forward if you just think your home movies are too dull to be endured! Produced by Honestech, Claymation Studio allows you to create stop motion video. You can capture images with your digital camera, webcam, or camcorder. You can then apply small changes and add background images or music to create your own Claymation movies.
This software displays each frame for editing in sequence. There is a drag-and-drop function which allows users to change the order of frames. Previous frames can be overlaid on the current frame using the "onionskin" feature to help maintain continuity. The "rotoscope" feature lets users convert a reference source into a Claymation image — say, turning a sleeping Dad into a sleeping bear. This software allows you to save your working video in WMV or AVI format. You can also import audio or record your own audio for your video.
Claymation Studio works only on Windows PC. It supports Windows 2000/Windows XP and Windwos Vista. You need Pentium IV 1.8GHz or equivalent processor and 128MB of RAM to run it.