Many users like to use the Quick Launch bar to make the access to frequently used programs easier, faster and more direct. For instance, users can add in Microsoft Outlook into the Quick Launch bar and make the access to the program much easier by just clicking on it. The Quick Launch Bar might be useful but if you are a heavy user of the computer and there are many shortcuts needed to be added to your Quick Launch bar, it will become crowded and look messy. To overcome the limited space problem, you can try Free Launch Bar, a free replacement for the standard Quick Launch Bar which can group your applications to appear as in a pop up for easy viewing.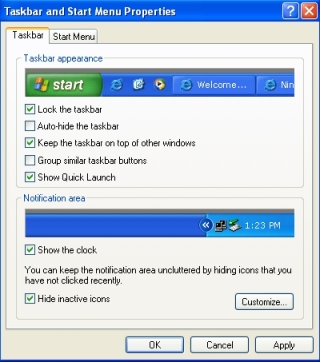 To display the Quick Launch Bar, just right click an empty area on the taskbar and click Properties. On the Taskbar tab, under Taskbar appearance, select the Show Quick Launch check box and click OK.



Once the Quick Launch Bar is displayed, users can just drag the icon of the selected applications into it in order to create a shortcut.
Free Launch Bar is available free to combine your shortcuts into groups. For instance, you can combine your IE and Firefox under one group, say Browser. Click on "Browser" and there is a popup menu showing IE and Firefox. You can launch your IE or Firefox very much faster.
The main features of Free Launch Bar:
• Creating menu on taskbar with unlimited levels
• Compatibility with Windows XP
• Integration into Windows Shell
• Low resources
• Compatibility with Quick Launch
• Creating separators to group shortcuts inside menus
• Different view modes
• Hotkeys
• Using PNG pictures as icons
• Support of Windows Drag&Drop technology. To add shortcuts you can simply drag them into menus
• Improved tips. You can include some of HTML tags into button description.
• Fast toolbar switching
• Absolutely FREE
Download link for Free Launch Bar.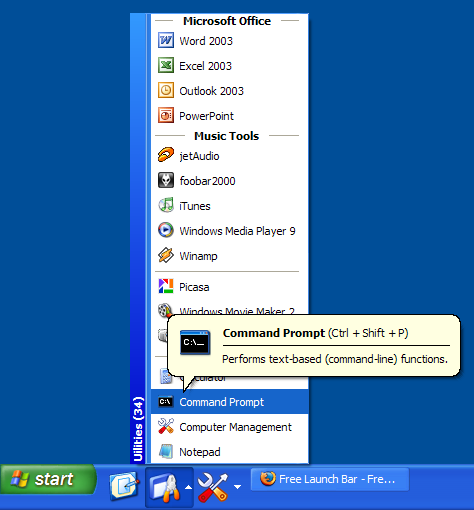 Screenshot of Free Launch Bar