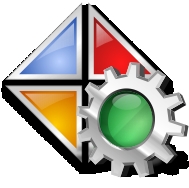 You might want to replace the default or the typical Windows icons and personalize your computer with your favourite icons. However, to crate unique Windows icons might consume your valuable time and of course you need to have some artistic sense. To make your life easier, perhaps you could try out the newly released application, IconDeveloper 2.0.
IconDeveloper 2.0 is an easy program to create your own Windows icons from pictures and photos. It can make unique and stylish icons for Windows OS. The application is easy to use. It can import your favourite photos or image files (support various formats such as PNG, JPEG, etc) created from other applications and easily convert them into Vista ready icons (based on 256 – 256 sized icons). This application also can change the colours of icons, do batch conversions, and add new sizes to existing icons using a variety of scaling techniques to ensure the highest possible quality. IconDeveloper can also incorporate itself into the Windows shell allowing users to simply right click on a graphics image and turn it into a Windows icon (.ICO file). It can edit both .ICO files and .ICL files and supports any size icon you choose to create.
IconDeveloper offers free version that can be downloaded here. However, users need to pay $19.95 for the enhanced version which support additional files types and features more functions. Users can compares the feature in download page.