The well-known innovative solutions provider for the connected media lifestyle, CyberLink Corp. has launched its new software application that helps users better manage their photo and video collections – CyberLink MediaShow 5, which the company claims as the fast and easy way to organize, fix, and share videos and photos, aiming to preserve your life's best moments.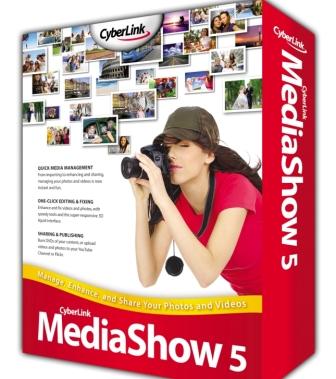 "Proliferation of video and photo capture devices such as affordable cameras, camcorders and even cell phones, allows consumers to capture their life stories anytime, anywhere. In fact, we are taking more videos and photos than any generation," commented Alice H. Chang, CEO of CyberLink. "MediaShow 5 incorporates the latest video and imaging technologies to help consumers organize, fix, and enhance their media, and then share their life stories."
Highlights Of CyberLink MediaShow 5:
Precise Face recognition technology and smart tagging feature provides users a speedy way to tag faces in large photo collections.
One-click fixes allow users to quickly enhance videos and photos taken in less-than-ideal situations, such as in poorly lit rooms or while moving, aiming to remove poor lighting, shakiness and inaccurate white balance.
New animated text, transition effects, and easy-to-apply templates letting users create memorable slideshows in minutes.
Optimization for CPU and GPU accelerated processing enables up to 10X faster Speedy Video Conversion for enjoyment on a range of portable media devices, including iPod, iPhone, PSP, PS3, Xbox and Zune. Optimized for Intel Core i7, NVIDIA CUDA and ATI Stream.
Direct access to 3 of the most popular social networking platforms for sharing videos and photos online – Facebook, Flickr and YouTube.
Ability to burn discs of your precious videos and slideshows to play on your DVD player, and thousands of free animated menu styles are available at DirectorZone.com for you to download.
Optional Blu-ray Pack allows the browsing and conversion of AVCHD video files, and enables the authoring of AVCHD and Blu-ray Discs (coming soon).
CyberLink MediaShow 5 that supports English, French, German, Italian, Spanish, Chinese (Simplified and Traditional), Japanese, and Korean is now available for approximately $50, while the upgrades starting at $24.95.