You may have categorize all your favorite apps and store them into folders for better searching in iOS devices but when the quantity grows tremendously, it becomes very inconvenience to delete the folder as users will need remove all the apps from the folder one by another. If you are looking for faster way to remove folders especially those with full of apps, here is a simple tweak from Cydia that you can utilize to get it done. Named as Unfolder, it allows users to delete any folders (regardless if there are full lists of apps) by simply tapping on the 'X' sign just like the way to delete apps on Springboard.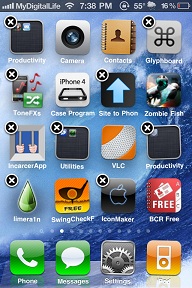 Assuming that you already have your iPhone jailbroken, head over to Cydia and search for 'Unfolder' will list down the app ready for download. Install it follow by a Springboard restart will make it effective for use. Take note that there will be no new icon be installed but by now, users will be able to perform straight folder deletion without the need to clear all the apps first. When it is in 'shake mode', just tap on the 'X' button will prompt user to delete the folder and further tapping on 'Confirm' button will delete the folder instantly.
Unfolder is free for download from Cydia so you will need to jailbreak your iOS devices before able to enjoy the tweak. No doubt, this is quite a great tweak especially suitable to those that tend to store many apps in a single folder but then intend to delete them by single tap.