SMS texting or instant messaging is common practice in iOS devices but its default keyboard could be a limitation especially when comes to Unicode symbols typing. If you wonder how you can add those to enhance your social networking experience, the tweak from Cydia is one of the options that you can adopt. Named as Vmoji MOD, it adds a comprehensive list of Unicode symbols so that you can use any of them by simply long pressing on certain buttons on soft keyboard.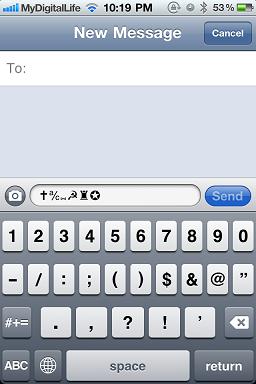 For those who keen to try out, do follow below steps to download one for trial.
Assuming that you have jailbroken your iOS devices, go to launch Cydia.
Browse to Manage > Sources > Edit > Add.
In the Add tab, add the new source: http://vintendo.com/.
Go to Search, and search for "Vmoji MOD".
Download and install the package follow by Springboard restart for it to be effective.
By now, open up any new message, switch to numeric keyboard, and long press and hold on any numeric number from 1 to 6 will bring up a full list of Unicode that users can browse through. Releasing the key hold on respective Unicode will put it into new message accordingly. Currently Vmoji MOD is available in beta release but so far it is quite stable without any weird issue experienced during the hands-on.