DAEMON Tools Pro Advanced is a comprehensive, powerful and user-friendly Windows based media emulation software which allow users to easily create virtual images of CD, DVD, Blu-ray discs. In addition, the software can mount and play CDs, DVDs and Blu-rays directly on virtual drive without the need of physical discs. It features media devices virtualization, an array of advanced imaging capabilities and simple user interface with powerful system integration.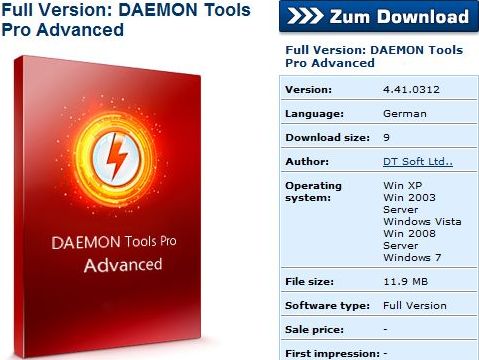 Main features of DAEMON Tools Pro Advanced:
Create .iso, .mds/.mdf and .mdx images of CD, DVD, Blu-ray discs
Protect images with password
Make or edit images with powerful Image Editor
Copy created images to media discs
Compose your own images of selected type (CD/DVD disc) with preferred file system (ISO9660, ISO9660+Joliet, UDF)
Emulate up to 32 SCSI devices
Use 4 virtual IDE devices for advanced emulation
Mount images to physical IDE/SATA devices via advanced attaching functionality
Perform image mounting to local NTFS folders
Use powerful Command Line Interface for automation purposes
DAEMON Tools Pro Advanced normally costs €99.90 for purchase. In order to celebrate Easter Special 2011, CHIP Magazine is now giving away free copies of DAEMON Tools Pro Advanced version 4.41 (4.41.0312) to anybody who is interested. This 1-day (April 22) giveaway promotion will expire very soon, so hurry up!
To grab a free copy of DAEMON Tools Pro Advanced 4, follow these steps:
Visit the promotion page at http://www.chip.de/downloads/DAEMON-Tools-Pro-Advanced-Vollversion_47833379.html
Click Zum Download button and you will be directed to a new page.

Click Download-Server CHIP Online button to download the setup installer.

Install and run the DAEMON Tools Pro.

Note: The license serial key of the multimedia emulation app is pre-loaded, just as what you see in the photo above.
DAEMON Tools Pro Advanced 4.41 is compatible with Windows 7, Vista, XP, 2003 Server and Windows 2008 Server platforms.