T-Mobile has officially launched T-Mobile Dash 3G phone. The Dash 3G is quite similar to the HTC Snap which supports its carrier 1,700MHz 3G network. The Windows Mobile 6.1 inner circle feature has been replaced with MyFaves for free calling to five US contacts.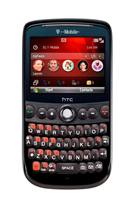 Powered by a 528 MHz processor, the phone is also equipped with a 2-megapixel camera, featured with a QWERTY keyboard and track ball, supports microSD card and integrated a GPS sensor. Additionally, it is Bluetooth enabled and supports Wi-Fi connectivity.
The Dash 3G phone is expected to be available in July and is priced between $100 and $150 with a two-year contract.