Microsoft has introduced Deepfish, an early version of a new web browser for mobile devices. According to Microsoft, this new browser will enhance the existing mobile browsing technology by displaying content in a view that is closer to the desktop. It makes browsing full-sized webpages faster and easier on small smartphone screens.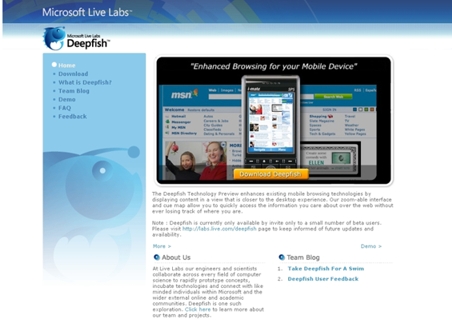 Deepfish is produced from Microsoft's Live Labs. It takes a webpage intended for a desktop web browser and turns it into a small image that fits on a mobile phone's screen. Users can visit the page they want to read and access the information without losing track of where they are. Deepfish supports URL address bar navigation and standard link navigation as well as simple form submission. It allows users to scroll and zoom in/out of web pages in order to enable increased readability and usability.
To date, internet browsing on a mobile browser is constrained compared to browsing on a desktop. Most web browsers for mobile phones limit mobile users' access to the internet to a portion of what's available to desktop web surfers. With this technology, users can enjoy better browsing experience on the mobile screen.
Having said that, Microsoft reveals that Deepfish is still under Beta version and only a limited number of users with smartphones or Pocket PCs running Windows Mobile 5.0 or later can download it.