China Mobile has announced that its will be the first mobile operator in the world's to sell the Dell Mini 3i smartphone. The sleek and multi-touch smartphone is being designed to support applications of China Mobile's new OPhona and Mobile Market platform. The Mini 3i is runs on China Mobile's flexible Ophone open source platform and preloaded with the several popular entertainment applications such as 139 Mail e-mail, Fetion chat and digital maps for turn-by-turn navigation.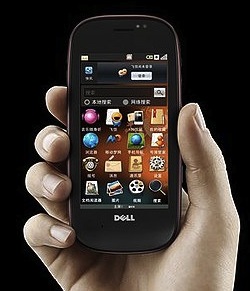 "People today want to carry their lives with them – they want to discover, capture and share new content as they roam around the world," said by Michael Yang, vice president and general manager for Greater China Consumer of Dell. "We believe Dell's year-long development collaboration with China Mobile will amplify those experiences better than anyone else in the industry."
Moreover, it features with a 3.5-inch display with 640 x 360 resolutions. The Dell Mini 3i is also equipped with 3-megapixel camera with zoom and auto-focus function for capturing videos and photos. It supports Quadband GSM/EDGE network and integrated A-GPS for navigation. Additionally, it is Bluetooth enabled and supports up to 32GB of MicroSD memory card.
"This signals an important milestone in the long-term partnership between China Mobile and Dell," said by a China Mobile spokesperson. "We are excited for Dell to be among the first manufacturers to introduce new technology based on the OPhone platform. We look forward to working with Dell as it brings innovative new products and services to add value to our customers' lives."
Available in red passion and oiled bronze, the Mini 3i smartphone with measurement of 58.35 x 122 x 11.7-inches and weighs 105g is expected to be available in China Mobile by end of November.