Just a quick note to thousands of people who are seeking an invite to register for Demonoid, a popular torrent tracker with an active forum plus user base.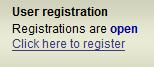 The open registration period of Demonoid is normally only lasted for a day or two. So for anybody who intends to get Demonoid account, don't plea or search for invitation code anymore, head to register now.
Registration page: http://www.demonoid.com/register.php
Or, join the giveaway contest to win a Demonoid invite.