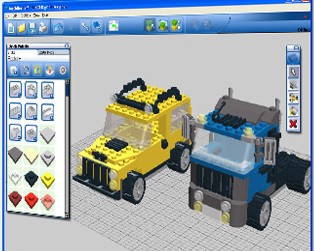 Lego has always been an influential childhood toy for many people. These colorful interlocking plastic bricks help in a child's brain development especially their creativity, imagination and logic thinking. It gives players a strong sense of satisfaction when they see their masterpiece created or assembled from this small color brick. Your Lego dream should not be halted even though your age is catching up. To bring your Lego experience to another level, you can try another challenge from this Denmark-based toy manufacturer – design your own Lego creation!

LEGO enthusiasts who want to take up the challenge to build and design their own Lego creation can download the Lego Digital Designer, a modeling tool from Lego site for free. This 3D modeling program allows users to design their own Lego model virtually using virtual colorful bricks with their computer. The designing and building process is pretty simple. Users can get started by customizing or extending a collection of sample models available. Users just need to drag and drop those virtual bricks from the toolbox into the virtual platform to build their virtual model. There are a handful of useful tools available to assist users to build their models. Once the design is done, users can place an order from Lego to purchase every piece they used as a single kit and create their physical model. This interesting modeling program also allows users to print out the step-by-step instruction. Users can also share their masterpiece with others by uploading their design to the LEGO factory Gallery.
Lego Digital Designer lets users continue their childhood pleasure and showcase their imagination. The app supports both Windows and Mac OSX.