ShirusuPad is another desktop notes taking application for Windows. ShirusuPad is an easy to use and user friendly application that allows users to make notes of any kind. As example, ShirusuPad may be used as a simple library containing favorite links, contact number, addresses and etc. The users can also directly click on highlighted URLs to open them with default web browser.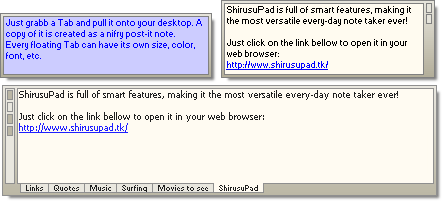 Featured with unlimited number of Tabs to categorize notes into different subjects, the Tabs also can be dragged out of the main interface. The notes also can be encrypted to allow only authorized user to read it. In addition, it also can be show or hide on the desktop depending on the needs of the user. Other features include support alpha blending like transparency, URL-highlighting and automatically saved once the users make the motes or edited.
Currently, ShirusuPad is still in a beta stage and do not have installer yet. If you interested to try, you can download it and then unpack the zip file. Once the zip file unpacked, a folder called "ShirusuPad" is automatically created.