If you intend to have multiple virtual desktop environments for more efficient work space without being limited by your system capability as well as screen size, here is a useful utility that you may want to try. Named as Dexpot, it can transform your existing monitor screen and split them all up to 20 virtual desktops, letting the users to concentrate well without being distracted by unnecessary tasks.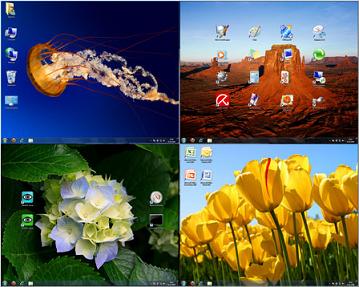 Once install and launch the utility, you will notice a small icon appeared at the system tray. Double clicking on it will launch several virtual desktops (default is four) with totally independent properties. For the start, users can define number of virtual desktops (up to 20) and among all, there is a way to configure its properties such as the name, resolution, wall paper, screen saver so that they can be fitted well for different environment. Besides, users are allowed to customize its appearance to either appear as in desktop Manager mode, preview mode or Windows mode depending on own preference for faster switching from one virtual desktop to another. All these are well managed by a set of Desktop rules to make the whole virtual environment more user-friendly suitable for both home and office use.
Consumed less than 3.8MB of your hard disk space, Dexpot is compatible with Windows Operating systems such as 2000/XP/2003/Vista and even Windows 7 and is free for private use but will require a license for corporate usage.