It is quite common that you may have all the personal and work files uncategorized and mixed up in your local hard disk. And whenever you realize and intend to find a way to sort them out, it may have already piled up that could easily take up half of your day time just to browse and search for them one by one. How nice would it be to have a utility that can automatically sort them out once you specify the rules on where they suppose to go? And that is how this tiny utility is useful for. Named as Digital Janitor, it will help you to manage and sort all the files to be resided in respective folders following the rules specified by users automatically.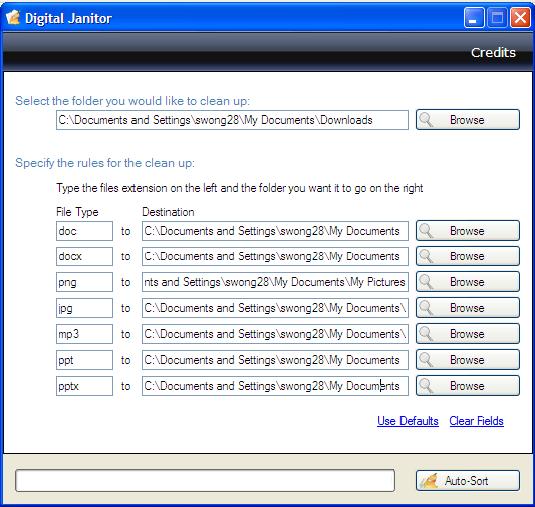 Once install and launch the utility, a small window will pop up allowing users to configure the necessary conditions and rules for proper execution. First, just select any folder that is intended to be clean up by browsing to the directory. Then, users will need to specify the rules by filling up the files extension on the left followed by the respective destination folders so that whenever the utility detects a desired format or file type, it will automatically sort and store them into destination folders without users' intervention. For simplicity, users are allowed to use default settings by clicking on 'Use Defaults' and all the necessary rules will be filled up with default destination folders for selection. For instances, .doc file will be stored into \My Documents folder, .jpg will go to \My Pictures folder and etc. Alternatively, users can fill them out manually or modify the file type and folder directory as preferred.
Consumed at around 856kB, Digital Janitor is free for download with only two pre-requisites as users will need to install Microsoft .NET Framework 2.0 and Windows Installer 3.1 for it to work correctly.