MegaUpload is one of the most popular One-Click Webhosting and free file hosting that allows users to upload and store files up to 250 MB in size (up to 5 GB for premium users, although you can upload unlimited number of files) and share with others. Unfortunately, if you want to download contents and files from MegaUpload file hosting service for free, there are some limitations that applied to regular users, and one of them is download slots limit based on your country. The download slots available is depends on country, and if it's used up, you have to wait for a download to finish and vacant the slot for you to be able to download again.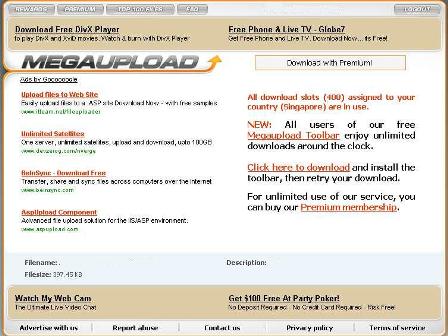 When the limit is hit, the message such as "All slots assigned to your country are in use, try again later" will appear. To hack the MegaUpload download slots limit by country so that you can bypass the download slots limit, anonymous surfing or referrer blocker service can help:
If MegaUpload download link is http://www.megaupload.com/?XXXXXXX
Then replace the URL to the following format:
http://anonym.to/?http://www.megaupload.com/?XXXXXXX
Alternatively, use any anonymous surfing service such as Anonymouse or Guardster free web proxy to bypass the MegaUpload download limit. Steps to use Guardster to bypass MegaUpload Country limit are:
Go to the following site: http://www.guardster.com/subscription/proxy_free.php
Input the MegaUpload download link in the Address text box. (where you will see http:// in the box)
Uncheck (Unselect) all the options, like No Cookies, No Scripts, No Images, Hide Referrer, Hide User Agent, Hide Title, Hide Header.
Click on the button "I agree an wish to surf anonymously".
Another workaround for MegaUpload slots limit is by using Google Language Tool translation capability.
Go to Google Language Tool, and scroll to Translate section. Or you can go direct to Google Translate.
Input MegaUpload download link into the tex box (where you can see http://) below the "Translate a web page:".
For "from" option, the default (depending on your Google interface) English to German will do the trick, although other options will likely to allow the hack too.
Click on the "Translate" after the language option, and wait for the MegaUpload download page to load, which allows you to start download immediately without the limitation by download limit per country.