Windows Live Messenger (previously known as MSN Messenger) will pop up an alert dialog above the notification area or system tray whenever another IM contact or user signs in or signs out of the Messenger service, together with a sound. The alert notifies that the user has just signed in or has just signed out.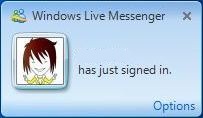 The contact online or offline alert pop up will automatically hides and disappears away after a few seconds of display, and the audio alert normally lasts just 1 second or so. Despite the brief appearance of the sign in sign out alert, the pop up may obstruct important screen real estate from view, and the sound can be annoying disturb.
It's easy to turn off and disable the alerts in Windows Live Messenger by following these steps:
Sign in to Windows Live Messenger.
Click on Menu button.
Select Tools.
Then select Options.
Click on Alerts section.
Uncheck Display alerts when contacts come online.

Note: Unselect this option will turn off the pop-up alert dialog.

Go to Sounds section.
Perform one of the following:

Check Mute all sounds to turn off all audio alerts by the Messenger client.
Click on the down arrow to expand the Contacts sign in, then select Don't Play a sound to disable sound alert for contacts coming online.

Note: Either choice above will disable the sound alert.