Previously we mentioned about Directory Monitor that can track files changes in specific folders, now there is a similar software utility that can achieve the same purpose. Named as DiskPulse, it can be setup to monitor any change of your files resided in directories without your need to manually compare them from time to time.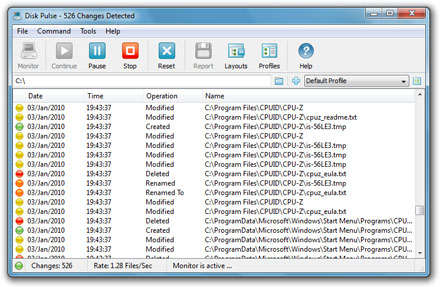 Once install and launch the utility, users will be brought to an interface whereby some initial configurations can be set. For the start, just click on 'Monitor' button will bring up a default profile so that users can configure directories to be monitored, events and rules or matching criteria that will trigger the log file and many more. Once everything is set, just click on 'Start' button will execute the monitoring and whenever there is any change being detected, it will be logged with exact date and time, Operation (whether it has been modified, created, renamed or etc) as well as file name and location. Meanwhile, users are allowed to create different profiles with customized settings depending on various scenarios so that it could be useful for any level of monitoring depending on personal preference.
Consumed around 3MB of your hard disk space, DiskPulse is compatible with Windows 2000, XP, Vista, Windows 7 and Windows Server 2003/2008 for free download to detect any changes to your files and folders. To make it even useful, there is an upgrade version – DiskPulse Pro that allows users to compile monitoring report in HTML, text or excel CSV format and even send email notification automatically with additional $25 for upgrade.